Wed. 24
Lazy day at home did lots of not much! It's Han's school concert this evening so I need to be properly rested
Not such a big role for Han in this years concert; played ocarina in the orchestra but didn't have any solo's and not in any groups, don't worry you can't always be lead dancer sweetheart. All in all it was great fun and The Head and some parents managed to make complete plonkers of them selves at the end. (INSERT VIDEO). Nat was at scouts so missed Han's show, mind you, he's got a big day on Friday when he's performing at the
Curve Theatre in Leicester.
Thursday 25
Nat spent the afternoon at the curve
rehearsing for tomorrow
. He looked totally knackered when he got home.
I attended the Governors Meeting at 6:30; quite a brief agenda and meeting, forming the two sub-committees to plough through the meat of the issues is paying off. At formal Governors meeting we can now, more rapidly, attend to the overarching issues that we are responsible for. Our function is to oversee the school not manage it.
After the meeting we all went to
Banter Café Bar
, for the annual Governors Meal; this should have taken place in December 2008 but was postponed when it clashed with a surprise Ofsted inspection which was to take place the next day. In attendance were, The Head, The Chair of Governors, myself and five other Governors (INSERT PHOTO). Banter Cafe Bar was previously known as the Rum Runner and was one of my favourite Leicester eateries. Deb and I started eating there in evening's after we had attended anti-natal classes at The Royal when Deb was carrying Nat.
My meal was absolutely gorgeous, I had………sautéed mushrooms to start and for my main course I had the Lamb. Shame about Vi's risotto which she couldn't eat. The restaurant did not charge her for her meal, as soon as they saw that she'd been unable to eat most of it the head waiter came over and spoke to her. When she explained why she couldn't eat it he apologised and immediately told her that this item would be removed from the bill. Good PR, I'd go there again and recommend them because of what they did.
Oh my God, it's happened again, this time
I've killed Michael Jackson
! As I mentioned above, the restaurant used to be known as the Rum Runner and I suggest it as a venue when we were planning a team night out from Brit Gas in Sept 1997. That was the first time I ever went there without Deb; we left after midnight; a few hours late
Princess Diana was dead
. Tonight was the first time since than that I've been there without Deb and again when I return home the only news is that
Michael Jackson
had died.
It can't be a coincidence, there are evil forces at work I've been used as a pawn by those that conspire to rid the World of "goodness", I recon that it's
the Greys
in conjunction with the
Illuminati
who are behind it. I have no evidence that this is true, however, I feel that it must be true and so obviously it is, because feelings DON'T lie! Go on sceptics, argue with those apples! Deb obviously works as an assassin for them and each and every time I go to this restaurant she kills for them.
Talking about MJ (and who ISN'T) you'd think it was God, or even Nelson Mandela, who had died; he was an extraordinarily talented singer and dancer who got very rich by making full use of that talent. He didn't cure cancer or end wars he was, no matter how talented he was, simply an entertainer. He brought great pleasure too those who , like myself, liked his music but he was still just a man and now he's died and nothing will change that.
I simply can't understand why people get so involved in the death of someone they have never met; they grieve as if they had lost a close friend or relative. They didn't know him! Why do they congregate around the hospital, his home and other places, he's dead; honestly, he's not coming out to give an interview or do one last impromptu photo call. Why do they want to see the coffin; to pay their respects? This is Diana all over again, an immense, almost hysterical, outpouring of public grief for a man who most commentators considered to be a "washed–up weirdo" and who, last week, all "right thinking people" regarded as a paedophile; I did mention that I killed Princess Di, didn't I?
I received my 1st MJ joke text at about 1PM on Friday, if you think that's quick bad taste I heard my 1st NASA joke about 3 hours after the Shuttle exploded. Here are some of the best of the MJ jokes (none of which I wrote and all of which were already posted on the Internet – so don't threaten to sue me):
Michael Jackson hasn't been this stiff since Macully Culkin spent the night at Neverland Ranch.
*Because Jackson's body was 95% plastic, he will be melted down and turned into legos, this way kids can play with him for a change.
*Reports that Michael Jackson has died of a heart attack in his home are untrue… He actually died having a stroke in the children's ward.
*In the spirit of recycling, Michael Jackson will be melted down into plastic party cups so kids can still get their lips around his rim.
*In accordance with Michael Jackson's will, little boys' pants shall be flown at half-mast today.
*Doctors are looking into claims that MJ's death could have been caused by an allergic reaction from eating 12 year old nuts.
*I heard Michael Jackson died of food poisoning from eating a 5 year old wiener.
*Michael Jackson will always be with us… he is not biodegradable.
*Farrah Fawcett arrived at the Pearly Gates and God asked her what he could do for her having led such an honest life. Farrah asked God to simply make sure the children of the world were safe. Five minutes later, Michael Jackson died.
*MJ's dying wish was to be melted down and turned into straws so he can still get sucked on by kids.
*It has been released that MJs last wish was that he wants to be melted down and made into a slide so kids can go down on him forever.
*In memory of MJ's death, McDonald's is coming out with the new "McJackson". It's 50 year old meat between 12 year old buns.
*Michael Jackson's ashes are going to be put in an Etch A Sketch so kids can still twiddle his knob.
*Michael Jackson's death has now been ruled a suicide. Apparently doctors told him that the only way he could get whiter is if he died.
*Only in America can someone be born a poor black kid, and die a rich white woman.
*Madonna sent her condolences to the Jackson family. Then asked how much they wanted for the kids.
*Breaking News: Casper the friendly ghost was molested in the early hours of this morning!
*Michael Jackson's last words: "Take me to the Children's Hospital!" What was Michael Jackson's last hit? The floor!
*Michael Jackson died of a heart attack. He really shouldn't have looked at the man in the mirror.
* Michael Jackson is having his plastic parts recycled into carrier bags; that way he'll still be white and still be a danger to small children.
Friday 26
Nat's at the
Curve
all day today; he and the others are having final rehearsals this morning and then it's a matinee in the afternoon for the schools and a final evening performance for the adults.
Jason and the Argonauts
Leicestershire Arts in Education will be presenting their first Schools and Youth Festival at Curve. Hundreds of children and young people from school and colleges in the city and county will come together to celebrate with three dynamic performances.
Heatherbrook Primary School
Millfield Community Primary School
Judgemeadow Community College Rothley C.E. Primary School
Church Langton C.E. Primary School John Ferneley High School
The Good News – All of the performances were superb, each school seemed to out do the last. The Bad News – NO photography in the auditorium; so unless the Curve publishes a video (it was being filmed apparently, according to Nat) we have no permanent record of the show, not even a few stills.
Here are someone else's photos
When, finally, it was time for Millfield to do their thing it turned out that Nat had, in the end, landed the role of Jason. There was a downside to this honour though; he had to carry the Argos's sail through the whole of the first part of their performance. The Millfield children enacted two parts of the story; First, the passage of the Argonauts through the crashing rocks and Secondly, the God's discussions concerning Jason's quest. Obviously I thought that this was the best part of the show! Luckily I was right!
When the performance ended we congregated outside to wait for the cast to get changed. During this time we managed to acquire a program and an advertising flyer that contained an unintentionally hilarious blooper. One of the adverts was for the show Michael Jackson 51. The blurb for this show read as follows;
"A tribute to one of the most famous people on the planet. Expect high-energy, pulsating music and
HEART STOPPING CHOREOGRAPHY
."
We had a great time outside discussing who had received the most and funniest MJ texts in the previous 24 hours. Eventually the kids came out and we grabbed Nat and made for the car park. Here Deb's pre-planning came into its own. She had pre-paid the parking charge when she booked our tickets for the performance and had got her parking ticket validated in the theatre. This meant we could bypass the queues for the payment machines and drive straight out. This probably saved us a good 20 minutes and this is something, dear readers that you too should consider doing in the future.
Deb dropped us at home before going shopping. I made an enormous pile of sandwiches, we hadn't eaten that evening, and we sat down to watch the Big Brother eviction; Half-wit lives to fight another day…HURRAY!
11:00 to bed (everyone but me), we have an early start tomorrow; it's Home Coming at Leicester University and the end of the Percy Gee. I went up at about 3:00 AM; what can I say, I'm an insomniac.
Sat 27
Awoke exhausted, horrible humid night I hate heat (I don't get to sleep easily at the best of times), wondering if I could manage to get out of bed let alone drag myself to the University. Lay in bed thinking about ditching the whole idea but finally relented when I realised it there wouldn't be another chance to see my old stomping ground after today. Eventually fed and watered, washed and dressed we all four crawled to the car and set off for what promised to be a long day; before we left I'd rang John, my manager, to see if I could get the night off as a holiday, thankfully he said yes.
We parked at HSBC and walked from there to campus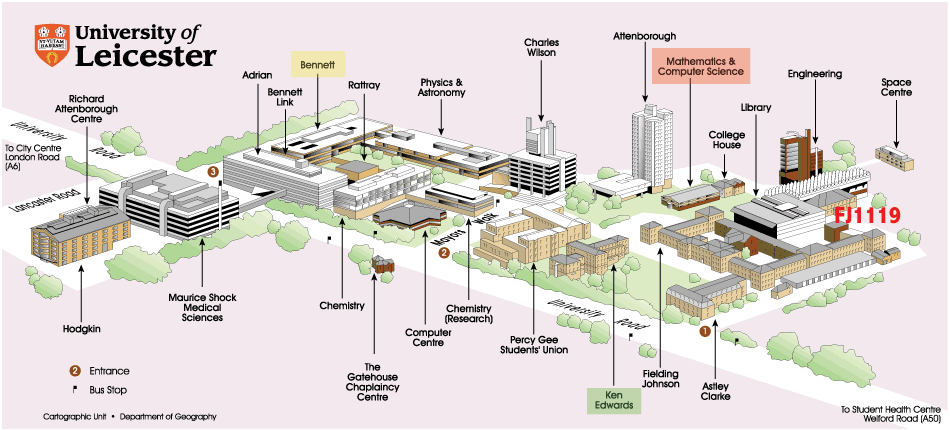 . Mayors Walk was already partly cordoned off and obvious renovation work had already begun, as can be seen from the links in a previous entry in this blog the builders are going to be doing a serious number on the dear old Percy Gee; it's getting dragged into the 21 century whether it wants to be or not! We made our way to the Charles Wilson,
registered; I picked up my 1981 graduate badge, and got pack listing all the days' events. We then had free coffee and pastries in the CW refectory café. They were "well nice" and we returned to replenish our plates a number of times. By now it was approaching 11:00 AM so we walked to the Percy Gee to join the "Hard Hat Tour" of the old building. There wasn't any need for hard hats as we didn't see any of the interesting underground places. The tour was pretty perfunctory and took only about 20 minutes. I don't know who's been in charge of decorating the PG these last few years but they must have got a real deal on brown paint. The decor was shit! Everything was painted brown and unnecessary doors had been added here and there to further inhibit the access of daylight to the building. Given it strange lay out the building suffers from a lack of naturally light but this lack had been exacerbated but the appalling brown paint that seemed to cover every wall. God it was DRAB!!!!! To make matters worse we ended the tour in the Redfern Bar and this had suffered the most. The most horrendous alterations had been made to the structure of the room. Walls had been knocked out, the bar extended into the former toilets and the bar itself truncated and rounded into a horseshoe shape. All this should of added space and given and impression of space. In fact it looked smaller and reminiscing of stinking student bar of the 1970's; it never looked like that in the 70's in fact it was quite upmarket, very much like a nice pub's lounge bar. I thought I 'd be sad about it's impending demise; instead I was sad at what had been done to it and instead began to looked forward to it being put out of it's, and my, misery.
Shortly afterward we left the PG and I told the kids I'd take them to see the paternoster in the Attenborough Tower
. Han wanted to go on the bouncy castle instead so Deb stayed with her and I took Nat with me. Unfortunately the tower was closed off so we were not able to see it or ride it…..another day perhaps. Back to Deb and Han and Nat and Han made for the inflated slide. I took a few pictures unaware that Deb also took about twenty; they were the only photos she took all day. Eventually we dragged them away and went to take a look at the new library.
It's not totally new but the originally building has been massively extended. The original university bookshops have been used for other purposes and there is now a single bookshop attached to one side of the entrance to the library, on the other there's a coffee shop.
I took Nat and Han on a tour of the building, Deb dropped out and went to collect their packed lunches from the Charles Wilson building. We spent a good 30 minutes seeing what a real academic library was like. I showed them some of the very old books that are held in the Libraries local history collection (Leicester is very highly regarded for it's local history resources) and Han kept trying to locate books using the computerise catalogue terminals that were scattered about the building.
Afterward we joined Deb at the tables outside where the kids ate their lunches. I got us a couple of coffees from the café and eventual the heat forced us inside to finish these.
The Engineering building
was our next stop. Nat wasn't feeling very well so stayed in the foyer with Deb whilst I took Han up the tower to have a look around. It was about 1:30 PM by now and a serious of mini lectures were due to start in the build at about 2:00 PM. We left and went to sit on the grass in Victoria Park and took advantage of the shade under the trees. Its odd seeing Victoria Park, when I arrived in 1976 the park was surrounded by Elm trees but these were all cut down the following year because they were infected with Dutch elm disease. It turned the park into a kind of wasteland and it remained that way through out my university days. Now, after 30 yrs the trees are back and it once again looks like it did when I first saw it… weird!
We were back for 2:00 PM and took in some of the mini lectures. First we went to
"Squeezing liquids and solids" a study of non-Newtonian liquids and their uses, a great chance for the kids to play with mucky stuff! Next on our agenda was:
"A water Turbine that extracts energy from flowing waters" a fantastic piece of equipment that provides enough power to desalinate water in a desert. Professor Abdelwahab Aroussi, who was giving the demonstration explained that one had been build in the desert village in North Africa where he'd originally come from and that it provided drinking water for the current inhabitants. Finally we trooped off to see:
"High Voltage Arcs and Sparks" in the high energy research department on the top floor. We saw huge plasma globes, lord I still miss mine, a Jacobs Ladder and finally a generator creating 200,000 volt arcs. All this was explained to us by a "mad" German engineer with a strong accent and an odd laugh.
Throughout this time the kids somehow managed to get into almost every photo the University photography, who was recording the event, took. This was by invitation I might add; as we left they were asked to pose with Professor Fothergill (head of the engineering dept and a very nice chap as was Prof Aroussi) in front of a model of the building.
You scream, I scream, we all scream for Ice-cream:
We left Engineering and made our way back to the Charles Wilson via the micro-climate under the Attenborough Tower and were please to discover that the bottle of water we'd accidentally left on the table when were having pastries was still there. We grabbed it and made out way to the front where the chemistry dept were demonstrating some of the many uses that liquid nitrogen could be put to. In this instance they made chocolate mint ice-cream and it was bloody lovely. The close camaraderie between the professor who was in his late 60's and his students made me green with envy, I'd sort of forgotten how great a part of university life that was. I'd been lucky and had got on really well with all my lectures and tutors ( I never had a one I didn't like) during both my degrees and I remembered how pleasant that had been. To be treated as an equal by people who were often world renowned experts in their respective fields; to have to able to argue, in a coherent manner, with them and justifiable defend your ideas was one of the most enjoyable things I've ever done in my entire life. I never understood those who said nothing during tutorials, what was the point in being there? Anyway, I digress, we all managed to get an ice-cream, Han and Nat got flakes in theirs (jammy sods), and we made our way to the Geology Dept in the Bennett Building
to attend a lecture by Professor David Siveter on:
"Flying Dinosaurs and Exceptionally Preserved Fossils – windows on the evolution of life unknown to Darwin". Despite the fact that the Professors laptop decided to crash just before the lecture; and that meant we wouldn't see some of the animations he was going to use to illustrate it the lecture was fascinating. The Professor has spent 20 yrs of his career in China excavating and studying fossils found in the fossil rich shale's there. After this we all went to see the department's newest addition, Jane a life-sized Tyrannosaurus Rex
. Jane is one of three casts made of pre-adolescent T-Rex fossil discovered a few years ago. She was approximately 11 yrs old when she died and about half of the size she would have been if she'd lived to maturity. Even this pre-teen dinosaur towered over us (SEE PIC).
By now it was 4:00PM and the heat and humidity was getting to all of us; I'd not seen anyone I knew during the day and was beginning to lose enthusiasm for spending the evening in the Redfern. We didn't think that the kids would sit through the Vice-Chancellor's "Review of the University" lecture that was about to start so we decided that Deb and the kids would return to the car and I'd go for a last pint in the "Fern". I bought a pint and proceeded to take some last photos of the old, much abused, girl. I didn't notice that my pint had been served in one of the commemorative glasses that were available to purchase that night. When Deb called I worked down to the car whilst finishing my drink. There seemed little point in returning the glass when I'd realised what I'd done, anyway nicking glasses from the "Fern" was a tradition in my day!
Deb had received a call from Donna during the day inviting us to a barbecue at her house that evening, I think in case her X appeared on the door; after nearly 3 yrs he's still being a B*****d and she was concerned that he might turn up. I think she wanted a little safety in numbers. Deb said she'd bring some puddings so we called into Morrison's on the way home. While we were there I spotted that they had a special offer on Brothers cider, Stella, Coors and Grolsh beers; 4 packs of 10 for £15; we took advantage of this and took the pear ciders with us to D's house. I must say that they were very nice and I'm sure they would have been even better if they'd had time to chill properly. D's friend Jonathon was also there and when we arrived he was cooking; he's got a back-round in catering and hotel management. We stuffed ourselves until sated and chatted generally, the kids were all in the pool. Later after I woke up, I'm told I fell asleep and was dead to the world for a few hours, we played "Texas Holdum" poker on a TV games console; eventually we called it a day at about 11:00 before Deb cleaned us out completely....spammy b*****d!
Home and to bed, couldn't sleep, came down stairs put on the goggle box….fell asleep.