Followed a link on Twitter this evening posted by Mrs Stephen Fry. Takes you to a YouTube video by Dan and Dan entitled "
The Daily Mail Song
". Absolutely superb, I retweeted it only to discover that so had more than a 100 others already; Deb found it had been sent to her already when see accessed her Facebook page. It had 128 views 2 days ago and it has over 49,000 tonight. I predict it'll be viral by tomorrow. The power of
Stephen Fry
.
Two calls so far both for DR second person very hostile started shouting at me and wouldn't listen to anything. I eventually managed to transfer her to the correct people God help the poor sod who has to deal with her. Apart from anything else it's virtually impossible to understand what she's saying.
Ash has just told me some awful news; apparently the
Jongleurs
comedy club in Leicester has closed down AAAAAAAAAAHHHHHHH!!!!!!!!!!!!!!!!!!!!!!!!!!!!!!!!! It seems a new comedy club has been opened in the same premises but he reports that when he and some friends went there the acts were crap. I've just checked on Wikipedia and it would appear that Regent Inns, which bought the brand went into administration in Oct 2009 and that a number of the clubs (those that weren't closed) were sold to a company called Intertain who re-branded them as Highlight. The club in Leicester is one of these because it's now known as Highlights. Lets hope that Ash's evening was an exception; I very very very very* rarely frequent town at night (
THAT'S A BIG THANK YOU TO THE BINGE DRINKING YUFF OF BRITAIN
) but Jongleurs was somewhere I really enjoyed going too (I've been twice…it's an exciting life I lead... Ah?). The only good news is that it would seem that the original owners of the Jongleurs brand have set about rebuilding the chain, now that restrictions on the use of the name have lapsed. So perhaps Leicester may, one day, again have Jongleurs of its own.
This could be my last blog post, and everyone else's too, because today, for the first time, the
Large Hadron Collider (LHC)
will let two streams of partials cross and collide at energy levels never before achieved in any previous collider. If the Doomsayers are too believed, and they aren't…I hope, then we may all be heading down a black hole later today. I've always enjoyed spaghetti but I don't know that I've fancied experiencing
Spaghettification
as I'm sucked into the event horizon. I've I claimed that I did want to undergo this process then I'd be "stretching" the truth.
(Each of the four objects follows a slightly different course, because the gravity of the planet falls off with distance and acts from the center. The net result is elongation in one direction and squashing in the other.)
In the case of a human body it would look something like this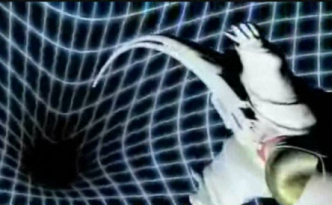 but nothing like this
It would, if I've understood the theory correctly, subjectively last forever! The only good news is that there will, no doubt, be contingency lawyers on the other side who, for a share of the damages, will be willing to attest that where there's blame there's a claim and will who immediately instigate proceeding against the
European Organization for Nuclear Research CERN.
I wish them luck!
If all goes as planned I'll be back tomorrow but if not I look forward to meeting you the other side!